'"Such a long trip," he thinks, "and so many places I could have stayed along the way."' Odysseus is clearly a man after my own heart. And in this sterling new retelling of the Odyssey, by Zachary Mason,
I feel, more than ever that I know Odysseus. He's new, fresh, post-modern and so very real in all his complications.
The book doesn't so much as read well, as it breezes by like the images that float in our mind's-eye when we toss in those fitful moments before sleep overcomes us. The images aren't logical, but they aren't yet fantastic, either.
This is also the kind of book that makes me want to write, if I could overcome being green with envy. Sentences like this haunt the pages, jumping out like errant grasshoppers:
"He could be immersed in molten iron and wrought into an ingot to be dropped into the sea, there to spend eternity listing in the deep ocean currents."
Or this:
"The gloaming had deepened and the orchard shook in a gusting wind that made his footsteps inaudible."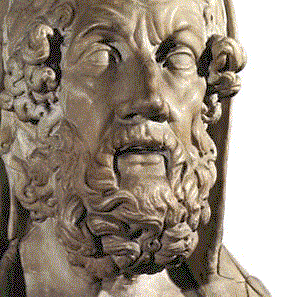 What writer would not give a small portion of her life to write one sentence so rich and so laden with the power of verbal necromancy?
Mason's novel is divided into 44 books, or short chapters. (It's only 230 pages long.) Some are no longer than 600 words, others of several pages. I got the sense at times that Mason was single-handedly trying to conjure up allegory and symbolism as well. But none get bogged down. Effortless artistry carries the tales rushing ahead to their inevitable, crashing conclusion.
Each is a compact of narrative prowess. None uninteresting.
And if the language succeeds, the stories, the plot, the narrative are almost rashomon-esque. None of the stories contradict each other–Mason leaves the contradictions to Odysseus and others in the tale–while Odysseus remains, almost impossibly so, a unified character. It's life that is contradictory, and in life, other people.
Odysseus always plays his part: but it's the expansive imaginativeness of Mason's devious story-telling that one finds laughter, smiles and cringes on several occasions. And perhaps, a few well-timed horripilations: Odysseus the assassin? Achilles the Buddhist? The quiet concatenations of Agamemnon's heart? Penelope's elegy?
Mason is all too aware of the post-modern predilection to get lost in the confusing and complicated, to overwhelm the reader with all sorts of nutty plot devices. But Mason's language and stories are a throwback to a more ancient viewpoint. His book is fruitful with entanglements but never descends to the cheap trick of irony. And, unlike Joyce's 'Ulysses', we can all relate to Odysseus' predicaments; we're all everymen, without the novel being an esoteric exercise in the mundane.
This book is amazing. I bought the damn thing last night and already read it all. Homer meets Borges, all post-modern, poignant and telling, almost sweet and rueful at the same time and never stuffy. It's the sum of a thousand tiny complications all rolled into one.
If you have even a passing interest in the ancients, I cannot recommend this book highly enough: a really brilliant retelling of an ancient but timeless tale. And brilliant is a word I seldom, if ever use, in a book review.